D&H Rolled Soft Leather Adjustable Training Lead
Regular price
$168.00 USD
Regular price
Sale price
$168.00 USD
Unit price
per
Sale
Sold out
Sometimes called the Police Dog Lead or simply Training Lead. It's used historically by police and army dog handlers (the different length settings vary depending on type of patrol or pursuit). The Adjustable Training Lead is now much sought-after by dog owners who appreciate its versatility.
Ideal for the multi-tasking dog owner. Perhaps you're a parent pushing a pram and walking the dog at the same time. Perhaps you're a runner and want your dog to tag along hands-free. Or maybe you're glad to adjust the lead to its full length of 6-feet to give your dog more room to roam on its walk. It's also brilliant for securing your dog to a park bench, or a pub table, when you stop for a rest or refreshment.
 
The thickness (gauge) is 10mm, constructed with a 6mm pre-stretched polyester cord around which we wrap, glue and stitch the soft leather. The internal rope is made for sheet and halyard use by yachtsmen - which means it won't rot if it gets wet, and has excellent strength and durability and a tensile strength into the thousands of pounds.
 
Metal fittings are solid brass or nickel-plated solid brass.
 
Total length is 6-feet at its longest (create a handle at one end). But the lead can be adjusted to throw over your shoulder or secure around your waist. Can also be configured to a standard length of about 1-metre.
 
You'll notice the lead also features two trigger hooks so you can actually use it for two dogs. Most dog owners, professional handlers and dog walkers appreciate the hands-free option.
Available now in ALL classic and contemporary colours, although not images ready yet (we're working on that).*
* IF you have a special request, please ring us on 020 7018 0175 or email hello@dogsandhorses.co.uk 
Materials

Internal rope cord is a pre-stretched polyester braid-on-braid (the same rope used by racing yachts with a breakage load into the hundres of kilograms).

Around the rope we wrap, glue and stitch the soft European leather.

Metal fittings are secured / stiched into the lead supported by full-grain hide leather sections.

Metal fittings are made of solid brass or, in the silver, a superior metal alloy with 100kg+ load-bearing.
Shipping & Returns

Allow 2-5 business days before dispatch

Delivery in the UK with Royal Mail or DPD

2 - 3 days*

International : depends on destination

Around 7 - 21 days

* It may take 2-5 business days for the making of your item. In most cases, we can dispatch immediately from available stock in our workshop. Sometimes we'll have to make your order on demand.
Sizing

The training lead measures approx 225cm (7ft+), end to end. It can be configured to varying lengths (police and army dog handlers will vary this according to the dog's state of patrol or pursuit).
Care Instructions

A cleaning with dubbin or saddle soap, then buffed up with a leather restorative like Neat's Foot Oil or a beeswax product (e.g. Renapur or Leather Genie) will help restore the leather to its natural lustre and protect it against the elements.

To help ensure the longevity of your dog's leather collar, allow to air-dry (not on a radiator) after it gets wet and ensure it is dry before re-using.

Do not allow the leather to come into contact with the chemicals from commercially-available flea spot-on treatments. This will damage the leather and may cause the dye to run.

Share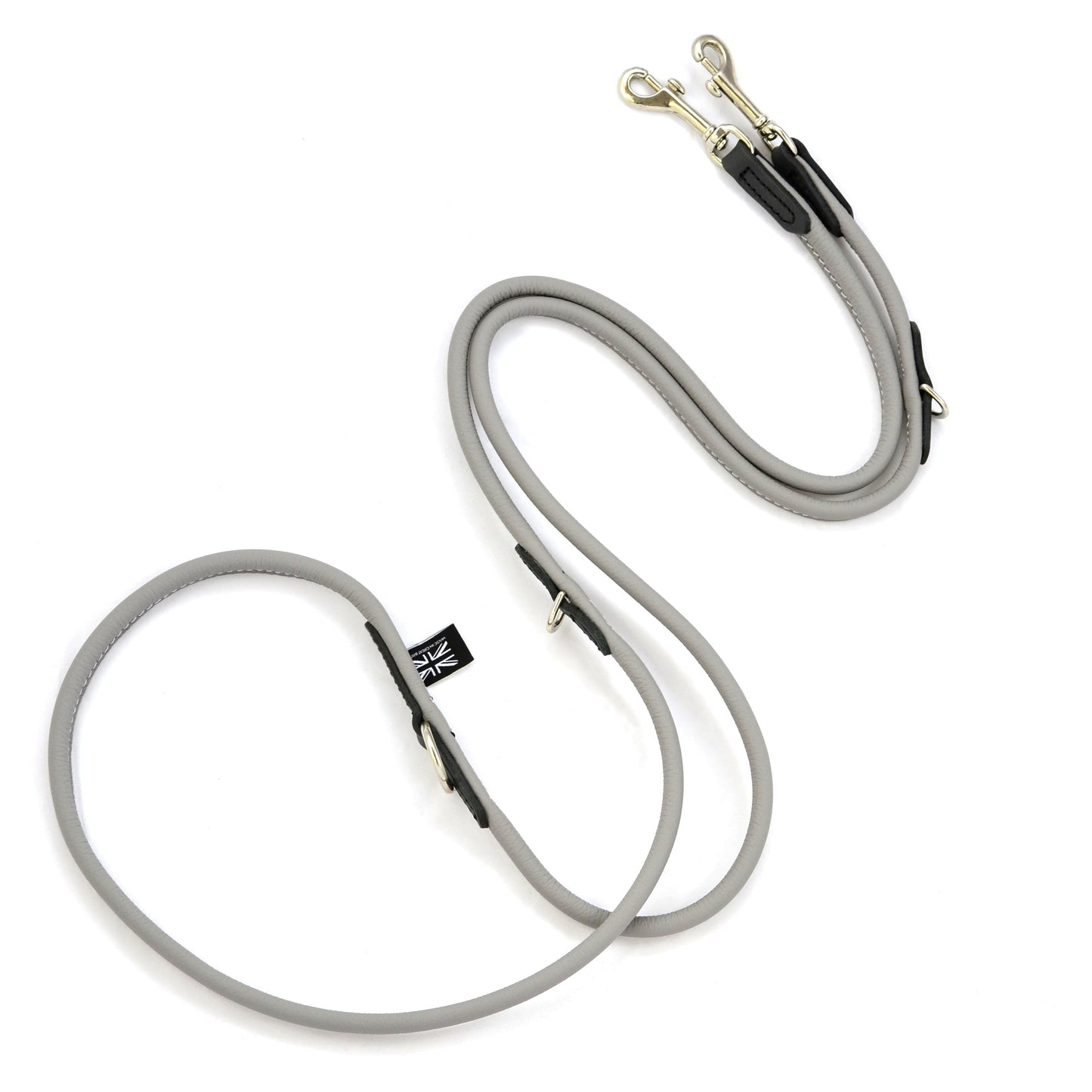 Training lead
Brilliant quality item again from D&H, pricey but worth every penny, it'll last forever :grinning:
Training lead
Brilliant quality item again from D&H, pricey but worth every penny, it'll last forever :grinning:
Absolutely perfect
Just love my new lead so soft and well made
Absolutely perfect
Just love my new lead so soft and well made
Purchase of rolled adjustable training lead with additional short lead and padded collar
Amazing customer service.
I asked if the training lead could be customised with an extra attachment in the middle of the fold to be able to attach to collar and harness for safety and more control to train to not pull but not so reliant on the collar. I never just attach lead to harness for safety in case of failure of harness breaking. This D&H customised exactly how I wanted.
I also purchased a padded collar this is the best collar I've ever had. Nothing was too much for the D&H team. Very impressed with all my products.